364 Green Acres Loop

Princeton, WV  24739

This page currently shows my latest finished paintings.  As new paintings are completed these images will move to a Gallery page to make room for the new ones.

Soon I hope to post paintings in progress, to show the various steps I go through in the creation of a watercolor painting.

Click on the image for a larger view in a separate window.

What's New!  The latest paintings to be finished.

Lower Mercer Street

This painting began as a pencil sketch for a watercolor painting. When the detail got out of control, I decided to turn it into an ink drawing.  It worked okay and was even accepted into the 2015 best of West Virginia at Tamarack's David L. Dickirson Fine Arts Gallery in Beckley, WV.

Still, I wasn't satisfied with the finish piece, so I decided to turn it back into a watercolor painting. I'm glad I did.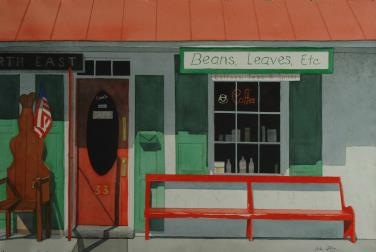 Beans, Leaves, Etc.

While visiting North East, MD I came across this very nice little coffee and tea shop. Decided to take a photograph and a few years late, material for a watercolor.

Image size 14" x 22"